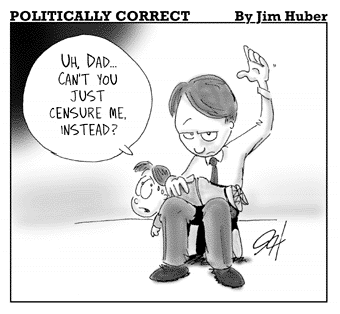 Photo courtesy of
conservativecartoons.com
Watch what you say or else...According to a recent Pacific Business News'
article,
news organizations like Washington Post and Chicago Tribune are suspending online reader comments on political stories. It would've helped if the article stated specific slanderous offenses. But then again, what's the standard of 'offensive' nowadays?
Readers can no longer be critical at a time during the election season, where they should be more critical than ever. Among reading "Go Palin!" and "Dipstick/Lipstick '08" comments, I've seen a mixed bag of the profound and persuasive, and others just biased without factual backup. All found under campaign trail
blogs
, where a journalist and readers can be opinionated
!
True, a commentor doesnt' need to follow journalistic ethics and can say whatever the hell he wants, and it's easier for everyone to lose their privilege than to for a website to regulate each and every post. But cutting off the public opinion just decreases readership and interest. If people can't express their opinions, then why should they care to vote in a DEMOCRATIC society? Ideas?